Portugal Paintings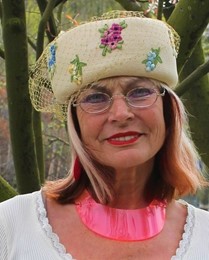 Will Kellermann studied Art at the Academies of Tilburg, The Hague and Zürich. She had her first exhibitions in Switzerland, where she was an Art Teacher at the International school. Back in Holland her career came into a gear and she became well known for her unique Silkcolors©, paintings on silk.
Just as fascinating, colourful and expressive are her watercolours (Member of International Watercolor Society-Holland and Watercolour Institute Belgium).
Will Kellermann is a flamboyant person. Her work is distinguished by a wealth of colours. She sees the world with an open mind and thereby teaches the spectator to look with an entirely new vision.
Will Kellermann discovered Portugal on one of her many painting travels as a renowned ´plein air´ painter. She is captivated by the vibrant authenticity of the Portuguese landscape, the people and the surprising light fall.
No wonder she has a studio in the beautiful Algarvian city of Tavira and various exhibitions in different galleries. During this exhibition she is also showing a small series of her unique Silkcolors© for which she is internationally so well known. Even China discovered them.
In her oilpaintings Kellermann captures the beauty of Portugal with the authentic feeling of Saudade and Sabores.
Her book about her work bears the title "The Romantic Adventurism" and this describes her work as she is, romantic and adventurous at the same time.